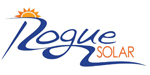 Rogue Solar was a volunteer-driven community effort coordinated by the Rogue Valley Council of Governments in partnership with RHT Energy from June 2012 through July 2015. It was touted as the most successful Solarize program in Oregon on a per capita basis. Based on a highly effective model that dramatically increased solar installations statewide, Rogue Solar was designed to bring renewable energy to homes or business located in Jackson, Josephine, and Klamath counties.  Rogue Solar worked exclusively with pre-screened solar contractors that participated in the Trade Ally program.
Rogue Solar Trade Ally Contractors:
The Rogue Solar program has ended.  We were very proud of the achievements that we were able to achieve with this program as a team and the outstanding reputation that we earned across the state and even nationwide.  Please contact any of the above-listed solar contractors and they will take care of you.  The logos above link to their websites.  Go solar!!